Commissioned by New Detroit from Brookings Institute and JFM Consulting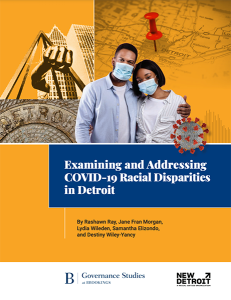 Executive Summary
One in every 645 Black people in the United States can expect to die from COVID-19, per data from February 2021. Blacks are 2.1 times more likely than whites to die from the virus. In fact, if Blacks had the same death rate as whites from COVID-19, roughly 25,000 fewer Black people would have died in 2020.
Why are Blacks disproportionately infected and dying from COVID-19? And, what are the broader COVID-19 related challenges for Black families and communities? How does COVID-19 impact other health-related issues, employment, housing, food, education, and business ownership? These are the central research questions in this report, "Examining and Addressing COVID-19 Racial Disparities in Detroit."
With racism being declared a public health issue in cities and states such as Michigan, we aim to examine the impact of COVID-19 through the experiences of Detroiters. The state of Michigan has the fourth-highest COVID-19 mortality rate for Black Americans. Roughly 30 out of every 1,000 Black people living in Michigan can expect to die from COVID-19. Wayne County has been most impacted by the virus. In Detroit, Black people represent over 75 percent of known COVID-19 diagnoses by race and nearly 90 percent of deaths. Considering there is a sizable percentage of missing data, the Black community may be even harder hit.
In light of these are sobering statistics, we assembled a formidable team of national, state, and local policy experts, practitioners, and researchers from The Brookings Institution, JFM Consulting Group, Data Driven Detroit, and the University of Michigan to better understand the factors related to racial disparities in COVID-19-related outcomes and the barriers to closing these gaps. Ultimately our findings will inform evidence-based solutions for government officials in the city of Detroit, Wayne County, and the state of Michigan when making policy decisions that can reduce the racial gap in COVID-19 and advance vaccine utilization.
Our extensive analysis of quantitative, qualitative, and demographic data reveals that COVID-19 has disproportionately impacted the Black community in Detroit. Not only are Black and Hispanic residents more likely to die from COVID-19 and know someone who died from COVID-19 relative to whites, but Black residents relative to white residents report more issues with housing, money, and food. A majority of parents report significant struggles with education for their children during the pandemic and report low levels of confidence in the school system to handle these challenges. Our report concludes with a series of policy recommendations for addressing racial disparities in COVID-19, COVID-related challenges, and racially-equitable vaccine dissemination.
While we focus acutely on Detroit and the Tri-County region in Michigan, our findings and policy recommendations are applicable to other localities that are attempting to employ racial equity in the midst of pervasive racial health disparities.