New Detroit is a coalition of leaders working to achieve racial understanding and racial equity in Metropolitan Detroit.
Our Coalition focuses on racial understanding and racial equity in Metropolitan Detroit.
New Detroit joins W.K. Kellogg Foundation's 4th annual National Day of Racial Healing.
Taking place in multiple cities to gather, learn together and celebrate our common humanity. New Detroit launched a special podcast focused on racial healing and our work in this area with our Genealogy, Storytelling and Racial Healing project. The podcast will also be posted on New Detroit's social media pages (Facebook and Twitter).
HOST:
PROJECT MANAGER, NEW DETROIT, INC.
Marshalle Montgomery Favors
GUESTS:
RACIAL HEALING SPECIALIST
Dr. Rose Moten, Clinical Psychologist, Author, Speaker, Founder, BLOOM Transformation Center
COMMUNITY ORGANIZER COMMITTED TO SOCIAL, ECONOMIC AND RACIAL JUSTICE
Bethany Hedden, MSW, Lecturer, University of Michigan-Dearborn
COMMUNITY ADVOCATE
Robert Thornton, participant, New Detroit's Genealogy, Storytelling and Racial Healing Project
New Detroit was formed in response to civil unrest in 1967 that uncovered a host of entrenched social and community ills. At the request of then Michigan Governor George Romney and Detroit Mayor Jerome Cavanagh, business executive Joseph L. Hudson, Jr. convened a unique coalition—the nation's first—to identify what went wrong in July 1967, what needed to change, and how to make that change happen.
Since then, New Detroit, Inc. has been a unique and valuable arena where leaders of Detroit's business, civic, grassroots, and religious communities have come together to plan cooperative strategies and to demonstrate their commitment to the city and its environs. New Detroit provides a forum for community leaders to come together to listen and learn from each other and to serve as a regional forum for sensitive issues among individuals who might otherwise have no contact. The coalition has worked to impact the actions of individuals and institutions by serving in a number of roles; advocate, catalyst, convener, and facilitator.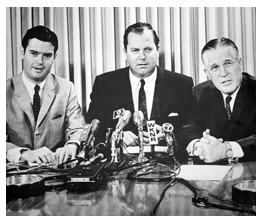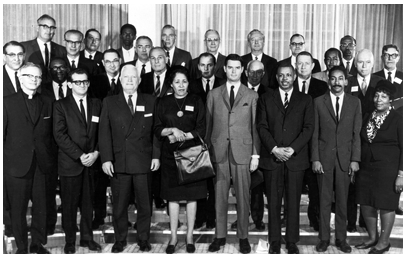 New Detroit has served as a catalyst for change, influencing the actions of individuals and institutions. Through advocacy and leadership by example, New Detroit has demonstrated new ways for solving specific community problems, as well as provided resources to community-based groups.