New Detroit is a coalition of leaders working to achieve racial understanding and racial equity in Metropolitan Detroit.
New Detroit's Leadership Series on R.A.C.E.
R

acial Understanding |

A

nti-Racism |

C

ultural Competency |

E

quity in Practice
Now more than ever leaders recognize they need to be change agents around diversity, equity, inclusion and justice. Join New Detroit and local leaders from our diverse racial and cultural community for a six-part online professional development program and become a positive catalyst for change in transforming your business or community organization.
New Detroit Town Hall Series
We are excited to announce our next Town Hall will be live on Zoom and Facebook Tuesday, September 28 at 5:30 pm. "Advancing a Racially Equitable COVID-19 Recovery: Voices of the Community" is the final segment of a 3-part Town Hall series based on a report we commissioned from the Brookings Institute with support from Rocket Community Fund, "Examining and Addressing COVID-19 Racial Disparities in Detroit."
Click here to REGISTER for this free event.
The Town Hall will feature everyday Detroiters speaking about their experience during the pandemic and their thoughts on an equitable recovery
a parent and son—NaTanya and Massai Albritton
a creative entrepreneur—Ivana Blakely, Precious Media
a restaurant owner—Godwin Ihentuge, Yum Village
a frontline health care worker—Marquita Barnes, Nurse/Rehabilitation Specialist
a community advocate—Ray Smith, Black Bottom Collective
The conversation will be facilitated by New Detroit President & CEO, Michael S. Rafferty and Program Manager, Marshalle Montgomery Favors.
The Town Hall will air on Zoom and Facebook Live Tuesday, September 28th from 5:30-7 pm. See the flyer for details.
Click here to REGISTER for this free event.
You can watch a recording of the first two Town Halls in the series, featuring the authors of the Brookings report, here and Detroit policy experts here. You can read the report here.
Please share with your networks!
Latest News, Media and Editorial
New Detroit was formed in response to civil unrest in 1967 that uncovered a host of entrenched social and community ills. At the request of then Michigan Governor George Romney and Detroit Mayor Jerome Cavanagh, business executive Joseph L. Hudson, Jr. convened a unique coalition—the nation's first—to identify what went wrong in July 1967, what needed to change, and how to make that change happen.
Since then, New Detroit, Inc. has been a unique and valuable arena where leaders of Detroit's business, civic, grassroots, and religious communities have come together to plan cooperative strategies and to demonstrate their commitment to the city and its environs. New Detroit provides a forum for community leaders to come together to listen and learn from each other and to serve as a regional forum for sensitive issues among individuals who might otherwise have no contact. The coalition has worked to impact the actions of individuals and institutions by serving in a number of roles; advocate, catalyst, convener, and facilitator.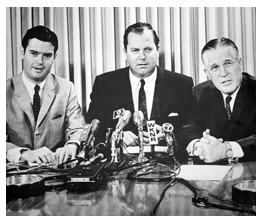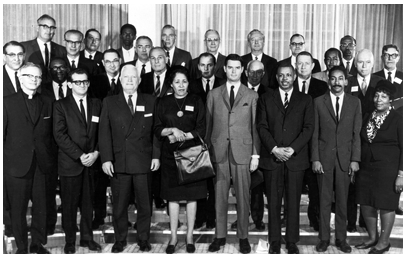 New Detroit has served as a catalyst for change, influencing the actions of individuals and institutions. Through advocacy and leadership by example, New Detroit has demonstrated new ways for solving specific community problems, as well as provided resources to community-based groups.