"Get in good trouble, necessary trouble, and help redeem the soul of America."
– Congressman John Lewis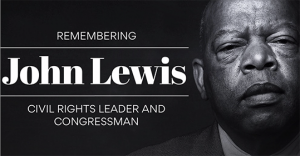 Civil Rights Icon and Champion for Human Rights – Congressman John Lewis was often referred to as "the conscience of the U.S. Congress." His fight for justice was a lifetime commitment. He powerfully stated that "Freedom is not a state; it is an act. It is not some enchanted garden perched high on a distant plateau where we can finally sit down and rest. Freedom is the continuous action we all must take, and each generation must do its part to create an even more fair, more just society."
This generation has sparked worldwide protests and the Black Lives Matter movement is reminiscent of the civil rights era that Lewis emerged from during the 1960's. In 1963, as chairman of SNCC Lewis was named one of the "Big Six" leaders who were organizing the March on Washington, the occasion of Dr. Martin Luther King's celebrated "I Have A Dream" speech, along with Whitney Young, A. Philip Randolph, James Farmer and Roy Wilkins; Lewis was the youngest of the Big Six. Until he passed, Lewis was the last remaining leaders of this conglomerate. Truly, the baton has been handed to us all. Now, the onus is on each and every generation to continue the fight for justice with rigorous and unwavering commitment. As part of his legacy he left us with this charge:
"When you see something that is not right, not fair, not just, you have to speak up. You have to do something." – Congressman John Lewis
Rest in peace and power!