Genealogy, Storytelling and Racial Healing – Chicago
The Logan Square Neighborhood Association (LSNA) is a community-based organization advancing diversity, leader development, and models for engagement as the catalyst for social justice. For its second year, Juliet de Jesus Alejandre and the Brown in Chicago Project (BIC) has taken 30 youth leaders between 14-24 years old on a journey to discover their families' migrations from Latin America. The purpose of Brown in Chicago is to empower Latinx youth by connecting them to healing stories about their families, their people, and their future.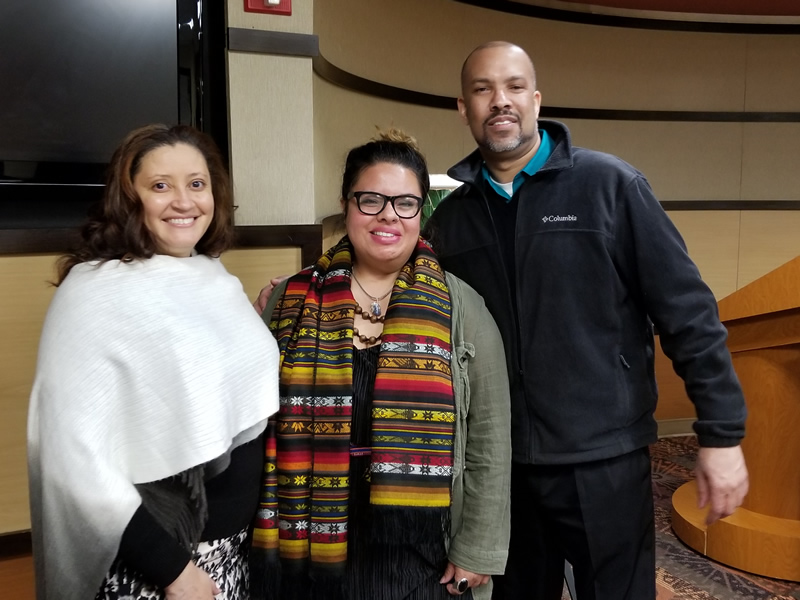 Marshalle Montgomery, New Detroit (Detroit)
Juliet de Jesus Alejandre, Logan Square Neighborhood Association (Chicago)
Dushaw Hockett, SPACES (DC/Baltimore)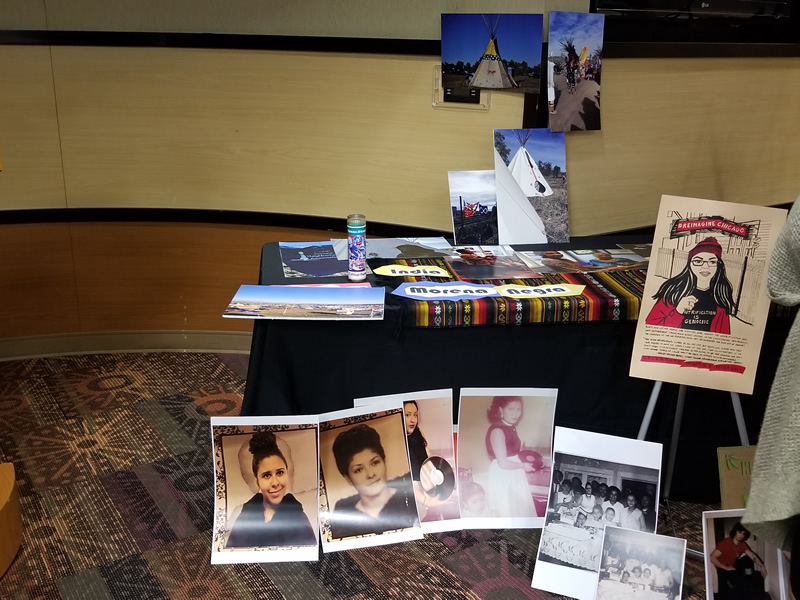 Photo Display from Chicago participants
Youth who love themselves and their many communities (friends, neighborhood, etc.) became agents of change and healing for others around them. Brown in Chicago youth leaders met two-to-three times a month to explore and share their family history, uncover historical contexts for their families' migrations to Chicago, unpack the role of race and racism within their lives, and design and lead bold conversations about healing from racism in the various communities they come from. LSNA hosted three family events to invite elders in the youth's families to share stories and their own views on what it means to be Latinx and indigenous or of African descent. The team also facilitated seven powerful storytelling events to over 200 participants—mostly other youth of color.  
 The youth's community storytelling gatherings focused on healing both internalized and systemic racism impacting the Latinx community, including some of the following themes: Decolonizing Latinx Identities (addressing anti-indigenous and anti-blackness within Latinx families), The Decolonization of Beauty for Women of Color, Healing from Generation Trauma, Inserting Healing Practices within the Immigrant Rights Movement, What We Learned About Organizing and From the Water Protectors in Standing Rock.  
 On a community organized trip, youth from BIC travelled to North Dakota to protest at Standing Rock. While, the pipeline has united a number of different interest groups with a variety of objections, Native Americans have been at the center of the opposition. The pipeline would travel underneath the Missouri River, the primary drinking water source for the Standing Rock Sioux, a tribe of around 10,000 with a reservation in the central part of North and South Dakota. Standing Rock was significant to BIC, as many youths discovered indigenous bloodlines through their DNA testing and genealogy research, where as many family members unknowingly claimed Spaniard descendants. This journey allowed youth to find their tribe and significance in America as they boldly claimed their own place in history as part of the Native, Latin-American and Pan-African Diaspora and realized that "Latino" is not a race but an ethnicity.  
 LSNA piloted a 10-week version of the project as part of a school's restorative justice initiatives with eighth and ninth graders who have experienced trauma. Many of them were good friends with Diego, a 15-year-old student who was shot and killed months before and were deeply grieving his loss. Working with younger participants who are struggling socially and emotional called LSNA to think of new ways to engage them. It added two new elements to the Brown in Chicago program model: mosaic glass art class with a local Chicana artist, and professional coaching sessions with the Center for Changing Lives. Students were able to connect to the project's theme of healing by making glass art that honored their parents and grandparents, celebrated loved ones who had passed, and memorialized their classmate Diego. The coaching sessions were introduced to provide a way for youth to build on their journey into their pasts and begin to set future goals for their lives—something that was very difficult for some to be able to visualize. The principal of the school, pleased with the program's impact said, "This should be a class that all of our students take."  
 BIC discussed ways to dismantle the structures that have marginalized and deemed people of color as subordinate by exploring ways to unlearn what they have been taught within themselves and daily lives. It took an analytical approach to "brown" cultures and socialized practices that have been historically ingrained through colonization in an effort to reclaim our identity, acknowledge our past and take control of our present for a greater future. 
 LSNA reported uncovering the history of migration and displacement and the impact they have on the lives of young people today as an accomplishment. This was borne out at public events where participants shared their stories about their family's journey to Chicago. Another outcome was dismantling the dominant narrative of white supremacy within the specific process of gentrification. This was demonstrated by youth's participation in various rallies for affordable housing and their ongoing written and spoken analysis of their identities and family histories. Through the six storytelling gatherings LSNA facilitated, more Latinx families celebrate their place and histories in the community as one tool against displacement.   
 On April 14, 2019 a BIC alumni and college student was a panelist at the Black & Latina Womxn Summit at the University of Illinois. The conference theme Decolonization: Our rebirth, focused on how the institutionalization of colonial practices has historically oppressed women of color in all parts of the world; including Africa, Latin America, and the U.S. Her experiences as a Latinx woman and BIC program participant prepared her as a subject matter expert and she was able to share knowledge and racial healing practices among professionals and with her peers.